Many of you have found yourselves with more time on your hands and are eager for a new project. Perhaps you've taken up knitting or find yourself transforming your living room into your new Zumba studio so that you can get fit without wearing a mask.
If getting creative with your space and figuring out how to declutter and organize your home to fit your lifestyle feels overwhelming, this option of services may just be the right fit for you! You'll know this is the right path to take if reading this makes you feel excited, not stressed!
Through a series of online coaching sessions, I will listen to your challenges and guide you with actionable steps that you can follow. You'll have to be willing to do the work to achieve your goals!
Together, we'll discover the underlying causes for your chaos + clutter and bring clarity for change!
How you'll benefit from clutter coaching:
Gain clarity and control over your space

Develop a mindset shift that will anchor the change you seek

Learn how to release clutter in a way that feels joyful

Create organized systems in high use zones

Love coming home, now, more than ever
Not sure which plan will be best suited to your needs?
Book a discovery call here or email me your questions!
OPTION 1
QUICKIE
$111
This entry-level choice is fabulous if you find yourself ready for a bite-sized SOS. You feel like you have an idea of which room in your house needs the most attention and you'd like to consult with me to come up with a solid action plan to get it decluttered and organized for good!
30 minute Zoom consultation

Includes emailed action plan
OPTION 2
AFTERNOON DELIGHT
$222
You're home, you're ready to make good use of your time and you're feeling ambitious! During this 1 hour Zoom call, you'll take me on a guided tour of up to 3 rooms or spaces in your home. Tell me what's not working for you and I'll guide you through some solid recommendations for transforming your space into an organized sanctuary.
Includes a detailed, step-by-step action plan
OPTION 3
LET'S GO STEADY
$333
The most comprehensive opportunity to work with me remotely. Think of me as your Virtual Clutter Coach! We'll do a full walk-through of your home and you'll show me your areas of biggest frustration. We'll talk about your goals and set you up with a step-by-step action plan complete with check-ins to keep you on track.
Full house virtual walk-through first month

1 hour Zoom consultation (per month)

3 x 30 minute Zoom check-ins (per month)

Includes worksheets + homework shared via Google Drive, with detailed step-by-step action steps you can follow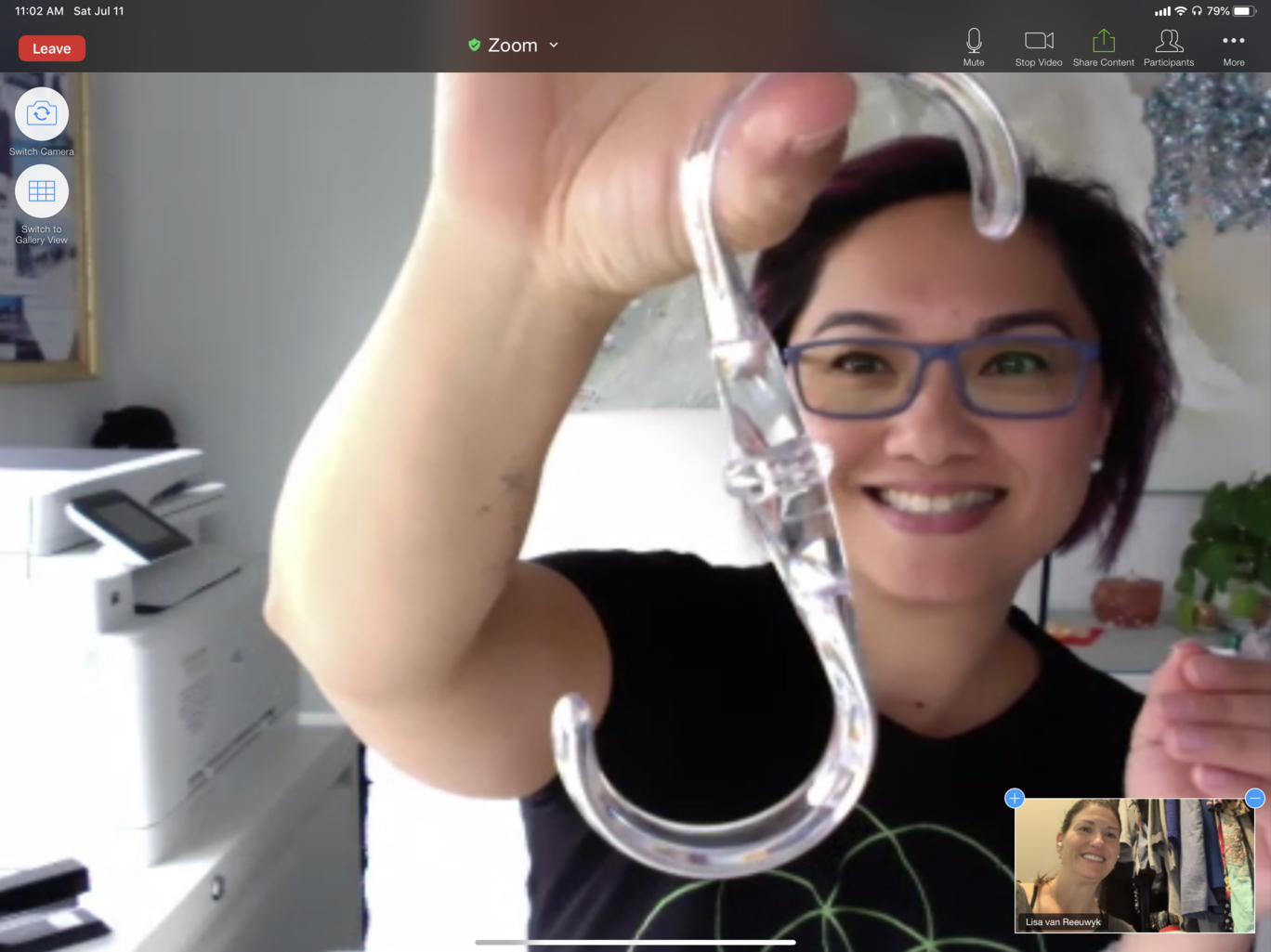 My walk-in closet had gone from my haven to a massive headache. Between clearing out our suite of our belongings to make room for a new tenant & creating a home office during these days of isolation. I had all sorts of Rubbermaids moved in there COVID and essential work related materials and couldn't see anyway past the clutter with all of these essential items now in there.
During the session, Quin was able to hone in on the key issues and make really useful suggestions based on her extensive knowledge of organizational products all while staying focused on my needs for the space.
I left the session fired up and focused, taking immediate action. With minimal spend and some new strategies to organize, my walk-in closet is even more of a haven than ever before!
If anyone is struggling with a space and can't figure out where to start or even feels there is nothing to purge so why even bother, spend an hour with Quin and get ready for a transformation.
LISA V.R.